La Serva Padrona
Story of love, laugh and life with immortal music by J.B. Pergolesi in a new, intriguing concept!
Het verhaal van liefde, lach en leven met de onsterfelijke muziek van J.B. Pergolesi in een nieuw en intrigerend jasje.
Een productie van La Serva Padrona in première. Het bijzondere van deze productie is dat ze vanuit een aanstekelijk enthousiasme is geïnitieerd en uitgevoerd door (voormalige) studenten van het Utrechts Conservatorium. Zij zijn dol op opera en komedie en hebben eerder al een paar (mini) operas uitgevoerd. Zij hadden geen zin om lijdzaam te gaan zitten wachten of ze gevraagd werden om op te treden, maar hebben het heft in eigen handen genomen en via crowd-funding voldoende geld ingezameld om van start te gaan met hun eigen ideeën. Ze kozen La serva padrona : de beroemde en beruchte opera buffa van Pergolesi. Een fantastisch stuk muziek met een moderne toneelaankleding, spelend in een modern kantoor, maar wel met een echt barok ensemble ter begeleiding.
Dit belooft een zeer bijzondere middag te worden, die zowel beantwoordt aan het "Antiqua" maar ook aan het "Nova" in onze naam Musica Antiqua Nova.
Rolverdeling: Serpina – Ksenija Celner (sopraan); Uberto – Pétur Oddbergur Heimisson (bas-bariton); Vespone – Bjarni Guðmundsson (tenor); Viool – Kirsti Apajalahti; Altviool – David Alonso-Molina; Clavecimbel – Bas de Leeuw; Cello – Elianne Ardts; Regisseur – Evalia Zilverschoon; Assistent regisseur – Floor van der Sluis
La serva padrona
In the first part of XVIII century a common practice in Italian theaters was to incorporate a small comic opera that would be presented during the intermissions of a serious opera that was on the show for the night. Contrary to the complicated stories of intrigue, honor and duty that was characteristic for opera seria, in these small chamber operas called intermezzi the plot was more of a mundane nature. In fact, more of a parody. Likewise, the performers were not great operatic stars but able singers with an extraordinary acting skills.
Giovanni Battista Pergolesi (1710-1736) was a young talented composer residing  in Napels around 1730s. He was an aspiring composer of opera seria, but as the fate has intended, today he is chiefly known by two of his master pieces from a different genre – Stabat Mater motet and La serva padrona intermezzo. The first performance of La serva padrona (The Maid Mistress) was on August 28th in Naples in Teatre san Bartolomeo as a comic interlude to his big opera seria Il prigionier superbo. The fate was not merciful to the poor Prigioniere that died in oblivion of the wider audience. However, the success of La serva padrona was nothing more of spectacular. Immediately after the premiere, it was transported even to the most reclusive parts of Europe. The work itself has seen many alterations, additions and translations in the process. This was achieved by the busy performing activities of many traveling theater troupes of the age. In France in particular, presentations of LSP in the season 1752/3. have started a ferocious dispute in the intellectual circles know as the Querelle des Bouffons. The cultural elite of the time heralded Pergolesi as the compopser whose music demonstrated the best the aestetic supremacy of Italian opera tradition to the French one that was represented mostly in the Works of  C.W. Gluck.
Since its premiere, La serva padrona is a rare example of a music that has survived on the operatic stage for almost three centuries, the fact that certainly speaks about the timeless subject set into music with a skill of a real genius.
The original story evolves around a wealthy bachelor Uberto who has had enough of his maid Serpina. He decides he has had enough of her insolent behavior and decides to get marry. Serpina is not willing to accept this and knowing her padrone well, decides that the best thing for all of them would be if Uberto was to marry her. Although Uberto is fond of Serpina more than he is willing to admit to himself, he refuses the proposed matrimony. With careful scheming and help with another servant Vespone, Serpina is able to bring the story to the end in her own terms.
Our concept
Time Setting: Present day
Place: Office at LSP International
Characters: Uberto, Serpina & Vespone, all working at LSP
Story:
Just another  regular day at the office. Uberto (the boss) is annoyed because Serpina still hasn't brought him his cup of hot chocolate. In fact, he has really had enough of her presumptuous behavior. She acts almost as she were the one in charge. Almost like she is his own wife! So he decides that the only way he can restrain her is to actually get marry.
Serpina however, has a totally different point of view. She is a bit frustrated because she thinks that Uberto doesn't see nor appreciate everything she does for him. And of course, her salary is nothing compared to all her duties. After all, she is his personal assistant, but does that really mean she even has to make his hot chocolate every day? Serpina is not at all surprised when Uberto declares he wants to get marry. Well, that would be the only sensible thing to do since she is already running all his errands just as she were his wife. Of course, she knows he needs a bit of persuasion in order to see for himself that marrying her would be the best solution. The third office member Vespone, got himself involved in Serpina's intrigues quite involuntary. At first. After Serpina promises him money and lavishing benefits, he decides to go along with the plan. In his opinion, he is not well paid or appreciated for all the work he does at the office, so why not use the opportunity to make his position a bit better? And if the scheme fails, at least they will all have a good laugh.
La Serva Padrona Office staff
Uberto

Meet the Boss. Uberto is a modern-day businessman. In his mid forties, he never got married because he was too busy working on building up his company. You can say he is a genuine workaholic. He founded LSP International almost two decades ago and managed through series of lucrative deals to ensure a stable growth and profit. It was his brilliant idea that LSP International should focus on manufacturing high-quality stapler machines and accompanying office supply materials. Through careful brand positioning plans, LSP International products today are considered synonym for quality and as a result, the company is positioned as a reliable business partner worldwide.
Uberto is very savvy person an likes to save money in all aspects of business & life. As a consequence, he is for example, cutting costs on his office staff by making them do all sorts of stuff that the are hardly qualified for. Deep down, he has a big heart and a generous nature and he truly cares for his employees. Sometimes he just doesn't know how to show it.
His greatest weakness – daily cup of freshly made hot chocolate.
Serpina
Meet Serpina, Uberto's secretary. Although, she prefers to be called Personal Assistant. She doesn't speak about her age but it is fair to assume that she is in her late twenties or perhaps early thirties. It seems that she has been working for Uberto for ages and had know him even longer. Serpina's  father was one of Uberto's business associates so their acquaintance dates to her childhood.
She actually had no proper qualifications or work experience before she started working for Uberto, but with her quick wit and cheerful personality, she quickly managed to get to know the company (and the boss) inside out. Recently she started to feel over-worked and under-paid. Her duties range from office correspondence to making hot chocolate for Uberto. She almost had enough of him and the whole company and as a result, she became more annoying and nagging to everyone at the office. She even considered of quitting, but changed her mind when she realized how much she would miss them all.
Her biggest weaknesses – makeup  and gossip magazines.
Vespone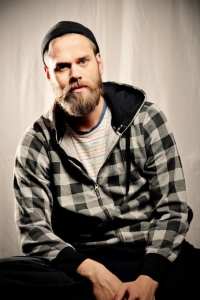 Meet Vespone, a man of many talents. Some while ago when Uberto truying to cut some expenses fired everyone at the office except Serpina, he got an idea to find one man who can replace them all. On that same day, he met Vespone by chance in a local bar and hired him on the spot. At the office, Vespone does a  lot of stuff – he is the mail boy, the handy-men, the driver, occasional cleaner and an unaccomplished IT expert. He is very intelligent and knowledgeable about many things, but doesn't want to brag about himself.
He is happy to work at LSP International office and genuinely admires Uberto's business success and personality, although he tends to be a bit intimidated by Serpina. Especially when she starts to shout. According to his easy-going nature he always keeps  calm during the busy & stressful days at work and maintains philosophical attitude towards all of the office drama.
Of course, both Serpina and Uberto take him for granted without even realizing how much easier their lives have become since Vespone joined the office staff.
Curious facts about Vespone – he is fluent in French and secretly attends evening drama lessons.
THE TEAM
Pétur Oddbergur Heimisson (bass-baritone) Uberto
Pétur was born in Reykjavík, Iceland. He began his singing studies in Iceland but moved to the Netherlands in 2009 to study with Jón Þorsteinsson at the Utrecht Conservatory. He has participated in many choir and solo projects in the Netherlands. Pétur have for example participated in two productions of Yo-opera, joined a chamber choir for Il prigioniero by Luigi Dallapiccola in Het Muziektheater Amsterdam, Meesters en Gezellen with Nederlands Kammerkoor, Orfeo ed Euridice at Palais Soestdijk, internship with Groot Omroep koor in Brahms Requiem, sang the role of Sarastro in Die Zauberflöte and the bass solo in Weihnachts Oratorium by J.S. Bach as a school project. In March 2013 Pétur sang the role of Cazumba in the opera A Vingança Cigana by A.L. Moreira. He recently participated in a Masterclass withJohannette Zomer. Pétur is a member of the vocal ensemble Olga.
Ksenija Celner (soprano) Serpina
Ksenija Celner is a young Serbian soprano residing in the Netherlands. The season 2013/2014 brought several exciting projects for Ksenija. Next to the La serva padrona, she performed the soprano solo in the Weinachts-Oratorio by J.S. Bach during with the Utrecht Conservatory Choir & Orchestra, as well as the role of Contressa di Folleville in Rossini's master piece Il viaggio a Reims. Furthermore, lead role of Pepa the Gypsy in A.L. Moreira's A vingança da Cigana and Serpina in J.B. Pergolesi La serva padrona.
In 2013 she successfully performed the role of The first Lady in Mozart's Die Zauberflöte  under the direction of Hans Leenders.  She debuted with the role of Palès in Lully's opera Cadmus et Hèrmione in 2012. In June 2012 she performed both the roles of The First Lady and The Spirit in Purcell's Dido and Aeneas with Nieuwegeins Kamerkoor under the direction of Willeke Smits. She sung soprano I solo in the Vivaldi's popular motet Gloria RV 589 with Utrecht Conservatory Choir & Orchestra.
Ksenija attended several master classes with specializing in the baroque repertoire. Most notably with Dame Emma Kirkby, Johannette Zomer, and Deborah York.
Miss Celner is currently pursuing her Master studies at the Utrecht Music Conservatory in the class of Charlotte Margiono.
Bjarni Guðmundsson (tenor) Vespone
studies with Jón Þorsteinsson at the Utrecht Conservatory. He has sung the roles of Monostatos in Mozart's Die Zauberflöte as well as Adam in Carlijn Metselaar's In the Beginning.
Bjarni grew up in the countryside of Iceland and spent a lot of time working on his grandparents' farm. His greatest wish is to become an explorer. Sometimes he says, "I'd like to build a cabin in the forest and live there!" His favorite thing is to fish and to eat the fish for dinner. He once saw a UFO above the town Hveragerði in Iceland and since then has been certain about life on other planets. He believes in elves and trolls and is friends with spirits all over the world. His favorite cartoon as a kid was "Once upon a Time".
Evalia Zilverschoon  Stage Director
Evalia Zilverschoon is a Dutch soprano, studying at the Conservatory of Utrecht.
She has participated in productions of Suor Angelica (Zelatrice), Dido & Aeneas (Second Woman) and Die Zauberflöte (Pamina).
Next to studying the well known opera repertoire, Evalia works close with contemporary composers. In the opera 'Evalia – Monoloog met een ander' by A. Lemereis and R. Alexander she played the lead role. This opera was specially written for her voice. In the opera 'In the Beginning' by C.  Metselaar she played the role of Snake. Next year she will play the lead in a new written opera by A. Lemereis.
Evalia worked together with directors Jim Lucassen, Bernd Duenk and Gusta Gerritsen.
The experience she has gained during these productions, she will use in the production of La Serva Pardona as being the stage director.
Floor van der Sluis Assistent Director
Floor van der Sluis (1990) is a Dutch contralto studying in the Master of Music at the Utrechts Conservatory with teacher Henny Diemer. Floor sang her first opera role at De Nationale Opera in Amsterdam when she was sixteen years old, the role of Barbarina in Le Nozze di Figaro by W.A.Mozart. At the DNO she also sang the role of Das Kind in Die Gezeichneten by F. Schrecker in 2007 and in 2011 she sang the role of one of the Prêtresses in the opera Iphigénie en Tauride by C.W.Gluck, with Le Musiciens du Louvre under the direction of Marc Minkowski. This year she is singing the role of Maria in the opera Porgy and Bess by G.Gershwin with the Philips Symfonie Orkest, which will be performed at the Concertgebouw Amsterdam.
Before starting singing Floor was a member of a semi-professional theatre group and during this time she developed herself as an actress. Having a passion for theatre, during the operaproductions in which she sang she cultivated a desire for stagedirection. La Serva Padrona has been her debut as a co-stagedirector.
Kirsti Apajalahti Violin
Finnish violinist Kirsti Apajalahti has studied with Silja-Raitio Heikinheimo at Metropolia University of Applied Studies and studies currently in Utrecht Conservatory with Eeva Koskinen as her modern violin teacher and baroque violin with Antoinette Lohmann. She has attended several master classes where she has been taught by Tuomas Haapanen, Antti Tikkanen (Meta4 Quartet), Hagai Shaham and Pavel Vernikov among others.
Apajalahti won the first prize in Fontys-De Toonzaal Chamber Music Competition in May 2014 with Hombra String Quartet and Juvenalia's Chamber Music Competition with a piano quartet in 2007. She was also in the finals of the national violin competition in Jyväskylä in autumn 2009. Apajalahti has played as a soloist with Tapiola Youth Symphony Orchestra and with the Symphony Orchestra of Sibelius upper secondary school.
irsti is interested in playing all kind of music and she has been playing in variety of ensembles throughout her whole life. She has also played in many youth orchestras such as Tapiola Youth Symphony Orchestra, where she was also a concertmaster, and Symphony Orchestra Vivo. Kirsti has also participated in NJO, Dutch Orchestra and Ensemble Academy. In Finland she has played also in semi-professional as well as professional orchestras.
David Alonso-Molina Viola
David Alonso-Molina (Valencia, 1983) graduated in piano and violin (with first prize) at the Conservatorio Superior de Música "Joaquín Rodrigo" of Valencia. Afterwards he obtained a Bachelor's Degree in Early Music at the Royal Conservatory of The Hague, where he has studied with Rachael Beesley, Ryo Terakado, Elizabeth Wallfish, Catherine Mackintosh, Kati Debretzeni and Walter Reiter. Additionally he undertook natural trumpet studies with Tomohiro Sugimura, Susan Williams and Graham Nicholson. In 2012 he starts a Master's Degree in violin, viola and violoncello at the Early Music Department of Utrecht Conservatory voor de Kunsten in Utrecht, under the guidance of Antoinette Lohmann.
He is a founding member of Les Esprits Animaux, La Academia de los Nocturnos and La Faretra Ensemble. He plays and sings with groups such as the Bach Orchestra of the Netherlands, Concerto Barocco, La Ritirata, Clarini Ensemble, Contrasto Armonico, Stile Galante, Toronto Classical Consort, Ars Lusitana, etc. He has toured all over Europe, Japan and Canada, performing in festivals like Ambronay, Fringe Utrecht, Ghent, Brugges, Dag van La Petite Band, Nüremberg and Calasparra. He has recorded CD's for Armonia Mundi and Brilliant Classics.
Bas de Leeuw Harpsichord
Bas de Leeuw studies harpsichord and classical voice at the Conservatory of Music in Utrecht. After being introduced to the harpsichord by Tineke Steenbrink, Bas began his studies at the Utrecht Conservatory with Siebe Henstra. Bas forms an ensemble with viola da gamba player Toon Renssen and has played with many different choirs and orchestras as a continuo player.
In 2014, he was asked to put together a baroque orchestra and thereby became founder of the Nieuw Hollands Kamerorkest (New Dutch Chamber Orchestra).
After having had his first singing lessons with Sara Klein Horsman and Harry van Berne, Bas performed as a soloist in several cantatas and oratorio in the Michaëlskerk in Zwolle. In 2013, he was accepted to the Utrecht Conservatory, where he now studies as a baritone with Jón Thorsteinsson.
In a production of a Portuguese opera A Vingança da Cigana by A.L. Moreira in Utrecht, he sang the role of Chibante. In the spring of 2014, he also sang as a chorus member in a production of Bach's Johannespassion by the Dutch Touring Opera.
Elianne Ardts Cello
Elianne started taking piano lessons in music school when she was six years old with Hans van den Noomen and later  Ruud Bouman. From age seven, she started taking cello lessons as well with Wikkie Vis. At the moment she is studying cello vith Ran Varon and baroque cello with Viola de Hoog both at Utrecht Conservatory. In the year 2009 she won second prize at the Herman Krebbers Violin & Cello competition. Next to her studies she played in & toured to China with Euregio Youth Orchestra for talented Flemish and Dutch musicians. Eliane equally enjoys playing chamber music as well as baroque.
www.laservapadrona.nl (website alleen in het Engels)